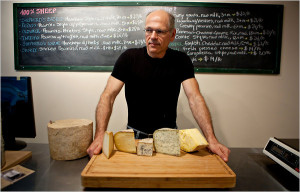 No, we have no shepherds in the family! What we do now surprises us quite often considering we are both engineering graduates from a small New Jersey engineering college (where we met.) We have always had a love of farming and a deep respect for all things God put on our own green earth, so we started by purchasing small acreage in Hunterdon County (NJ) and raising beef cattle. After building a house on the same land, we moved and started with a flock of Rambuillet sheep. We quickly found out that Lamb meat farming on a small scale (less then 1000 head) is a hobby and will not meet our goal of a sustainable family farm.[read more="Read more" less="Read less"]
We had been traveling in Europe for years and always noted the wonderful selection of cheeses in the open air markets of Provence, Tuscany and northern Spain. So in parallel with learning sheep herding on our own farm, we started learning cheese making European style until we felt confident enough to try our own.
The trips became less vacation and more sheep and cheese ventures until we settled on the Dutch Friesian milk sheep and decided to start production of a Pyrenees style cave aged cheese. The travels to Spain, France, Italy, Netherlands and Belgium continued, contacts made and the craft honed and polished.
It took years until we were satisfied with what we made and released it to the public under the name of "Oldwick Shepherd" after our lovely local village.
However, keeping 50-60 sheep and making wonderful cheese is not a sustainable family farm. Our goal was to create a self sustaining sheep dairy that would be geared to educate everyone in the process of sheep management and cheese making. At the same time, we wanted to make delicious cheeses that follows the old style European methods and thus the Valley Shepherd Creamery concept was born.
Many trips to Europe's hidden sheep creameries (so many seem to be lodged in impossible mountain passes) were made with cameras, translators, measuring tapes and many broken conversations took place in Basque, French, Spanish and Italian.  Greater focus was diverted to the Basque region of northern Spain named "Navarra" where many family sized farms, each with about 250-400 Latxa type ewes are surviving on Pyrenees mountain land.
One of our many trips is documented in the slide show:
As in many of these mountaintop creameries, the family milks early morning and the wife stays to make Idiazabal cheese.  The shepherd takes the ewes to the mountains for the day under the care of a Pyrenees guard dog and a Basque herding dog.  They milk again when the ewes return to the dairy in the afternoon
Valley Shepherd Creamery is the culmination of our experiences, dreams and hopes and would not have been possible without the help of shepherds from many remote mountain tops.
Valley Shepherd has grown and matured in its first ten years. The desire to remain a small family farm has strengthened while farmstead cheese making in the U.S. has taken off and artisanal cheese has become a new 'hot' category at every food show.   We are staying the course and meeting new difficult challenges mainly of spiraling costs by building our own sales network.  Such network allows us to continue to make less cheese by hand and avoids the big 'industry' distribution engine that dictates (high) volume, (low) price and (mediocre) quality by selling direct to, chefs and consumers at many farmers markets and at our own retail shops.
The jury is still out on this experiment that defies traditional U.S. 'big food' traditions.  Hang on for the ride. Enjoy the taste. Let's see where it takes us.
Our original goals can be summarized with this quote: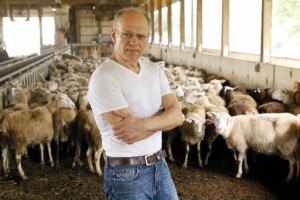 "What people do not understand, they do not value, what they do not value, they will not protect, and what they do not protect, they will lose. "- C. Jordan
 We built Valley Shepherd Creamery as a family destination for everyone to enjoy. It is a learning experience you will not forget soon.
[/read]